Currently, I am interested in the 'Facial Annalistic Set of the 16th Century' (aka 'The Illustrated Chronicle of Ivan the Terrible' ,'Obverse Chronicle', 'Tsar Book', 'Facial Chronicle', 'Litsevoy letopisny svod', 'Лицевой летописный свод', etc.) because of its contemporary depictions of torture and execution from the reign of Ivan IV, who commissioned the work.
While the historical accuracy of the events depicted in the books may be debated, we can infer that this is how the Tsar purposefully intended his legacy to be remembered in line with his efforts to revise the history of his own era.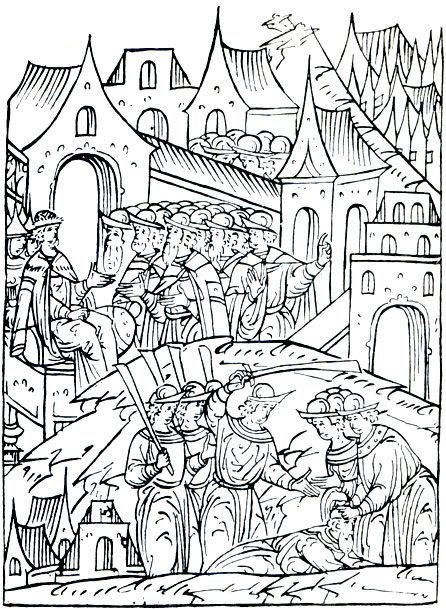 The existence of these images may dispute the arguments of Russian nationalists who claim a conspiracy by Western rivals to create a "black legend" related to information warfare surrounding Ivan IV.
Such images of death and destruction only make up a small fraction of the miniatures in the Facial Annalistic Set. However, their existence does support the idea that Ivan IV wished himself to be perceived in a fearsome way and didn't hide that he had people brutally punished in order to enforce his rule.
It was hard to find good quality images online from the chronicles to support this research. After some digging, I've found some excellent digital copies of the Facial Annalistic Set which were commissioned by the Russian nationalist businessman, conspiracy theorist, and political aspirant German Sterligov; who became one of the first millionaires (if not the first) in post-Soviet Russia after starting the stock exchange Alisa.
(The files are posted here, after the break and a bit of interesting biography on Sterligov.)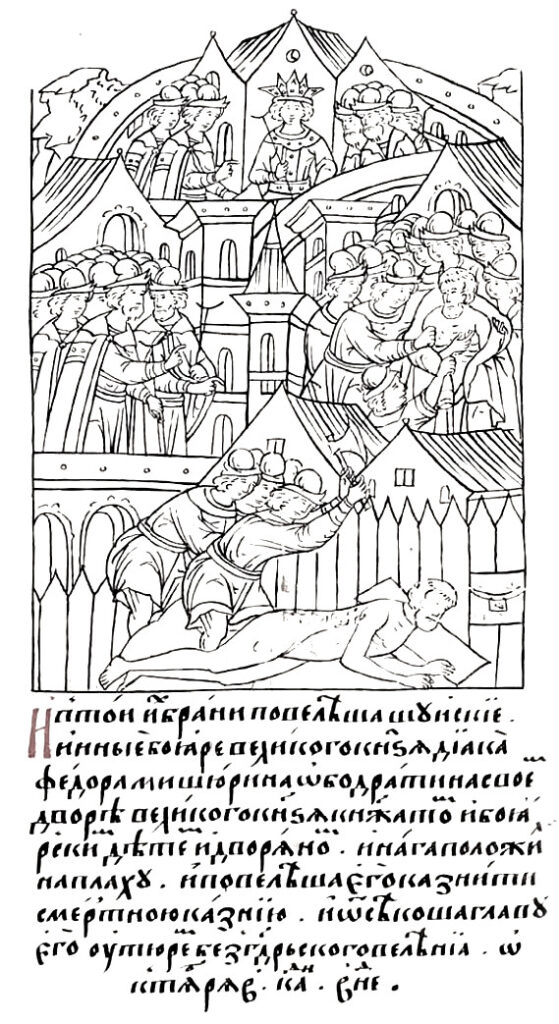 As for some more interesting background on German Sterligov — in the early 1990's, he caused controversy after claiming to be the target of recruitment by Western intelligence agencies.
Since the 1990's he's taken a turn towards a 'survivalist' kind of persona and allegedly advocates for shutting off all the electricity in the world.
Notably also signaling his alignment with the Russian nationalist set – in a model which seems familiar in regards to separatist efforts in Ukraine's Crimea and the Donbass in 2014 – Sterligov was at one point the focus of an Interpol search in 2015 after a complaint was brought by Azerbaijan in the context of his role in agitating for a Nagorno-Karabakh Republic. 
Around this same time, Sterligov denied rumors that he was affiliated with or provided training to the 'Combat Organization of Russian Nationalists' or 'BORN'; a neo-Nazi-like organization which is seen as close to high levels of the Kremlin – and even the SVR – and has been associated with the murders of antifascist political figures. In that same denial, Sterligov claimed that a conflict with then-practicing Putin aide Vladislav Surkov was one of the reasons his family was in danger and he had fled to Nagorno-Karabakh.
Interestingly, BORN was funded by Surkov, giving the whole thing a very poetic Surkovian vibe in the context of non-linear warfare and Surkov's reputation for demoralizing audiences by funding multiple opposition groups, sometimes opposed to one another.
Sterligov was later focus of criticism and publicity in 2017 for his homophobic rhetoric and business actions; however it seems that the earlier rumors of his involvement with BORN included his inducements of violence to LGBT activists as well.
In line with the far right, he next operated a cryptocurrency exchange and pitched a silver-backed digital currency.
Though detained by the FSB in Russia in 2015 on his return from Nagorno-Karabakh, Sterligov has in some accounts been portrayed as the son,  nephew, or even distant relative of KGB general Alexander Sterligov who has been  associated  with ultranationalist and monarchist movements in Russia. (German Sterligov identifies himself as Russian nobility as well.)
Addressing ongoing questions of his involvement with the state security apparatus, in this 2012 interview, German Sterligov says at one time he wished to be a KGB officer, but he explicitly denied any relation with Alexander Sterligov or the state; and claimed the rumor that he got rich through those connections was started at Radio Liberty by the journalist Mark Deutsch (who died in a swimming accident in 2012). 
Despite these denials, investigators of German Sterligov continue to ask questions about his connections to Alexender Sterligov in the context of his early fortunes which seem improbably acquired in the first place without some kind of high-level government connection. 
He's been in Afghanistan on multiple occasions as well, and in some cases it seemed to support the Kremlin agenda.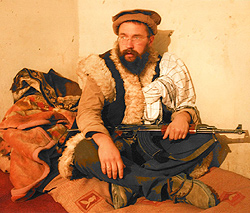 According to this book, German Sterligov had claimed in 1992 to have led KGB-affiliated commandos in the Soviet Afghan War; and after some repeated denials admitted that Alexander Sterligov was his uncle, and that he was under his uncle's direction.
It is not clear officially that German and Alexander Sterligov are coordinated in their actions – or even related at all for that matter – however both have been prominently featured for their turns to farming careers, and seem relatively proximate to Russian foreign and domestic security interests in the context of nationalism and monarchy. It's a neat coincidence if that's all it is. 
In this case, there are arguments that "obscuratinist" German Sterligov used his publication of the Facial Annalistic Set as an "ideological weapon" and may have ripped off another team's work in producing it. The originals are posted on his website, through the so-called Society of Lovers of Ancient Writing; an organization led by Sterligov and which takes its name from a prior more liberal scholarly organization.
According to his critics, "he himself deeply despises people who have dedicated themselves to the Imperial Society of Lovers of Ancient Writing, considering them freemasons, sorcerers and shaved heretics. His new OLDP, declared as "the resumption of the work of the Society on the basis of the Russian State Library", often does not adhere to the principles of publishing monuments themselves, allowing edits, withdrawals and erasures." (warning, some security risks on this link)
Most of the images of interest I found so far are in books referencing 1544-1559 and 1560-1561, but there are plenty of gory images of interest in the later books.
Unfortunately the font which is used in the margins for translations to modern Russian does not parse well in Google Translate so I am unable to read the captions or produce an English copy using online tools as I have with Dugin and Verkhovsky's work.
It would be great if there were an English edition of this archive online, but it is arguable that Sterligov's books may not be the most authentic or ethically-motivated reproductions to make that translation from. Nonetheless, it seems miles better than what else you'll find when you look for images from this series.
Good for a quick scroll-through, particularly the last 4 or 5 books as representative of the contemporaneous life and times and personal motivations of Ivan IV.