Introduction: From Nuclear Terrorism to Nuclear Hybrid Threats (and Nuclear Hybrid Warfare)
The geopolitical threat posed by the charismatic leader of a private military corporation (PMC) in possession of a stolen nuclear weapon and set against the backdrop of conspiracy theories involving Russia are themes central to the narrative of Konami's "Metal Gear" series of videogames.
From June 23-24 2023, Yevgeny Prigozhin, the 'Big Boss' of PMC Wagner led his troops in an unprecedented uprising against Vladimir Putin. This week, Ukrainian intelligence spread narratives that the Wagner mercenaries had attempted to steal "backpack nukes" from a military base in Russia during their march on Moscow [1]; and so it was that life imitated the art of Metal Gear.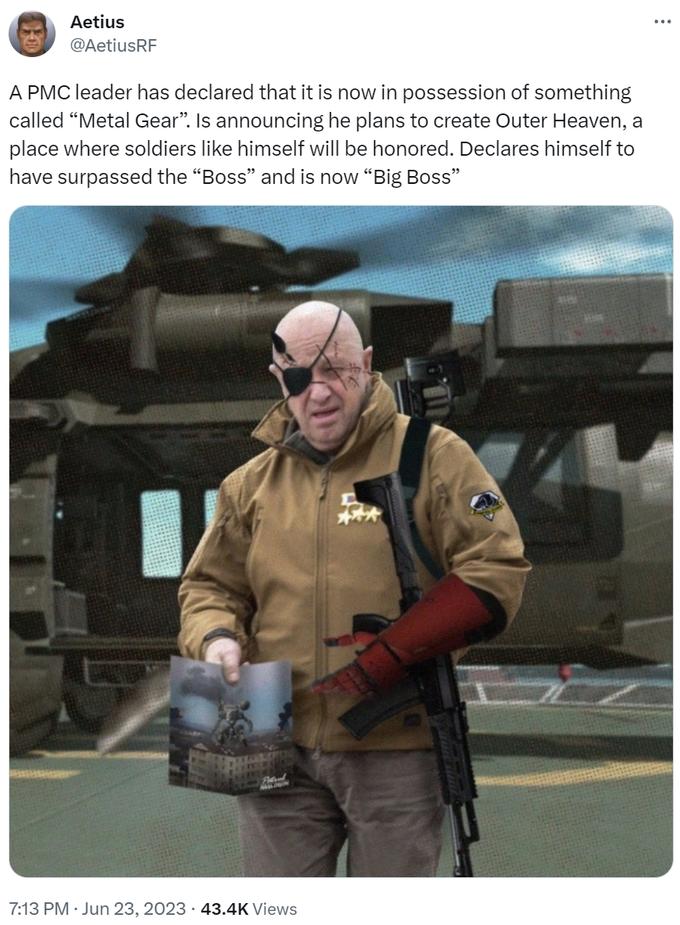 Such scenarios as explored in Metal Gear and many other works of art might most often be classified academically under the keyphrase of "nuclear terrorism". "Nuclear terrorism" (in quotes) seems a well-documented research area, which returned 22,300 hits today on Google Scholar for example.
However, for over a week before the narrative about Wagner raiding the nuclear base circulated, I had already been wondering if the Wagner uprising had been connected in any way to the tactical nuclear weapons which Russia had publicly placed in Belarus. I wondered if that may better explain Alexander Lukashenko's strange role in the story as well.
In discussing my scenarios of using Wagner as a proxy for a deniable nuclear attack with hybrid warfare and disinformation expert Chris Kremidas-Courtney  (Senior Fellow, Defense and Security, Friends of Europe), he told me I was describing a "nuclear hybrid threat".
Kremidas-Courtney deserves credit for coining this term in an academic context from what I can tell based on a quick literature review.  "Nuclear hybrid threat" does not occur on Google Scholar, and at least one of the two results for "nuclear hybrid warfare" appears to be a false positive.
Defining the PMC Wagner revolt more specifically in the scenario of a nuclear hybrid threat rather than as nuclear terrorism seems to have significant value from a modern academic information warfare perspective.
Hybrid threats have been defined by NATO as: "combin[ing] military and non-military as well as covert and overt means, including disinformation, cyber attacks, economic pressure, deployment of irregular armed groups and use of regular forces. Hybrid methods are used to blur the lines between war and peace, and attempt to sow doubt in the minds of target populations." [2]
A nuclear hybrid threat could be defined as those nation-state hybrid threats which are related specifically to nuclear materials or weapons; and yet do not rise to the level of an actual nuclear war.
In this blog, I will seek to unpack the idea of 2023's nuclear hybrid threats as generated by Russia in their war in Ukraine, especially as they relate to similar narratives of theoretical nuclear terrorism from Russia in the 1990's involving "suitcase atomic bombs", "briefcase nukes", etc.
Perhaps this all ends up looking like a "nuclear cardboard box"…
Continue reading "Narrating the Wagner Uprising as a Nuclear Hybrid Threat"