Currently, I am interested in the 'Facial Annalistic Set of the 16th Century' (aka 'The Illustrated Chronicle of Ivan the Terrible' ,'Obverse Chronicle', 'Tsar Book', 'Facial Chronicle', 'Litsevoy letopisny svod', 'Лицевой летописный свод', etc.) because of its contemporary depictions of torture and execution from the reign of Ivan IV, who commissioned the work.
While the historical accuracy of the events depicted in the books may be debated, we can infer that this is how the Tsar purposefully intended his legacy to be remembered in line with his efforts to revise the history of his own era.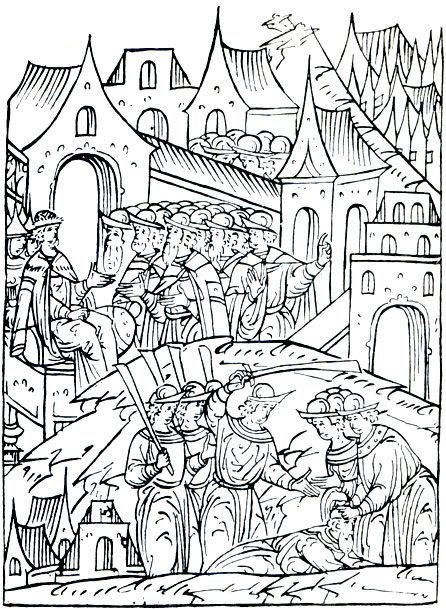 The existence of these images may dispute the arguments of Russian nationalists who claim a conspiracy by Western rivals to create a "black legend" related to information warfare surrounding Ivan IV.
Such images of death and destruction only make up a small fraction of the miniatures in the Facial Annalistic Set. However, their existence does support the idea that Ivan IV wished himself to be perceived in a fearsome way and didn't hide that he had people brutally punished in order to enforce his rule.
It was hard to find good quality images online from the chronicles to support this research. After some digging, I've found some excellent digital copies of the Facial Annalistic Set which were commissioned by the Russian nationalist businessman, conspiracy theorist, and political aspirant German Sterligov; who became one of the first millionaires (if not the first) in post-Soviet Russia after starting the stock exchange Alisa.
(The files are posted here, after the break and a bit of interesting biography on Sterligov.) Continue reading "German Sterligov's Facial Annalistic Set of the 16th Century"