I was poking around in the apocalyptic milieu of Eurasianist and Orthodox nationalist conspiracy theory, and came across an interesting name: Maria Vladimirovna Katasonova. She's been profiled as a Russian nationalist and former Duma candidate who is associated with Kremlin propaganda efforts in the French elections of 2017 and on the Ukrainian war front [1].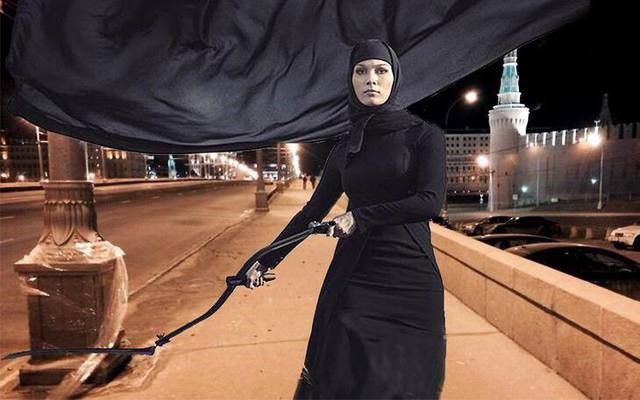 Frequently invoking the image of a destroying Orthodox angel in her social media posts, Katasonova was described in 2015 as "low budget purveyor of fear" and "a disciple of [Alexander] Dugin and aide to presidential advisory-board member Yevgeny Fyodorov… Like her dark father who had called for genocide against the Ukrainian "cretins", Katasonova, dressed like a white angel of death, said Russia would "destroy the whole world" if they lost the war in East Ukraine." [2]
[nods to Solid Snake and Sviridov]
In this case, Katasonova's "dark father" referenced in the bio is Alexander Dugin, who wrote: "We should clean up Ukraine from the idiots,"…"The genocide of these cretins is due and inevitable… I can't believe these are Ukrainians. Ukrainians are wonderful Slavonic people. And this is a race of bastards that emerged from the sewer manholes." [3]
While the comment here about a 'dark father' is rhetorical in relation to philosophical leanings (as Katasonova is not Dugin's daughter), she operated at times in a network close to Alexander Dugin's biological daughter (Daria Dugina aka Darya Platonova) and the political operative Andrey Kovalenko [4].  She's also appeared in media stories close to the daughter of Kremlin spokesperson Dmitry Peskov (Elisaveta Peskova)[5].
Given that she seems influential and close to the daughters of other top 'propagandists' it stands to wonder, who might be her real father? The answer doesn't seem clear, but the question is intriguing. Continue reading "Who's Your Daddy Maria Katasonova?"