For the purposes of this quick post, it is helpful that there is an African fable about a Shark and a Monkey; who are both liars and the moral of the story is you should trust neither one. (I have no problem with Debbie Wasserman Schultz, but the fable also relates to a 'Washerman's Donkey' who is analogized as a fool which is a helpful analogy for a process seeking a nominee for the Democratic Party, and Tulsi Gabbard's role within it.) Perhaps Michael Avenatti (our proverbial Monkey) has passed the torch of incendiary pro-Russian political strategy candidate to Tulsi Gabbard (our proverbial Hawaiian Shark). I hope so, she looks like a pretty easy target to destroy.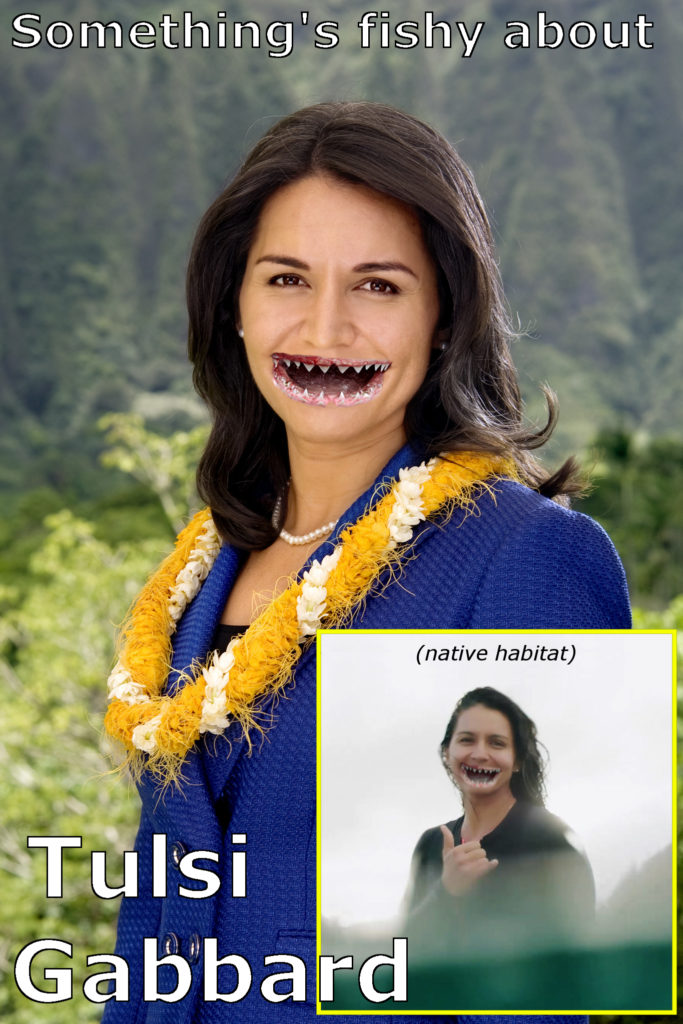 I'm trying stay on top of the story that Gabbard has announced her likely foray into the 2020 field for the US Democratic Party presidential nominee. As such, I will also just quickly list the things which give me pause to date (that I am aware of) about her. 
This lady looks through and through like a modern day Communist radical in the pack of Russian-Syrian propagandists like Alex Jones.
More to come for sure as she establishes herself as some kind of Trump campaign kayfabe or Russian-Syrian propagandist in the race to the bottom in 2020. If Democrats choose someone like this, after already having been led to the lion by her in 2016 — and subsequently mauled by it  — they will surely establish themselves as the party of the 'Washerman's Donkey' — that animal with no heart and no ears — deserving of what they get for their trusting stupidity.