Stormy Daniels and Michael Avenatti are now feuding, and it seems this might very well be the end of their relationship. This seems related to Daniels' complaint to the Daily Beast that Avenatti filed the Donald Trump defamation lawsuit without her consent (which she lost and was obligated to pay hefty legal fees on).
Additionally, Daniels complained that Avenatti obfuscated details of how more than $400k in crowdfunded monies raised for Daniels' legal defense have been spent. In recent days, Avenatti started yet another crowdfunded campaign without Daniels' consent (if anyone can believe her), using language which implied her intimate involvement (the campaign has apparently been suspended, although Avenatti's tweet announcing it still persists at the time of this writing). (Update: this campaign and another by Avenatti related to migrant mothers and their children are under review.)
To top it off, this morning Avenatti was publicizing apparently passive aggressive 'Streisand effect'-like news about his client, and about why his audience of close to 900k Twitter followers should "reserve judgement" about a police report which was filed against Stormy Daniels and her ex-husband by a gay couple who alleged homophobic slurs were levied at them in the course of a business dispute (one of Avenatti's steadfast exes helpfully shared the actual article about it— and being from an obscure source — it isn't likely people would have found the article or known of it otherwise). (Classy people, these Michael Avenatti clients and lady friends.)
While all of this is leaving the question up in the air of whether Daniels and Avenatti have turned on one another, and if his advocacy of her is done for good, it also has me asking if Michael Avenatti's use of the Twitter platform to preempt a series of incendiary cultural/political debates about sex and race — not to mention his use of it for potential financial malfeasance – might be sufficient grounds for him to be banned there.
I had recently done a quick year-to-date Google Trends analysis of Michael Avenatti, which was unrelated to the Twitter question. Surprisingly however, it shows just how correlated public interest is in him with Twitter. I think this objectively demonstrates how essential the platform is to the enablement of his campaign of apparent lies, hate, and division.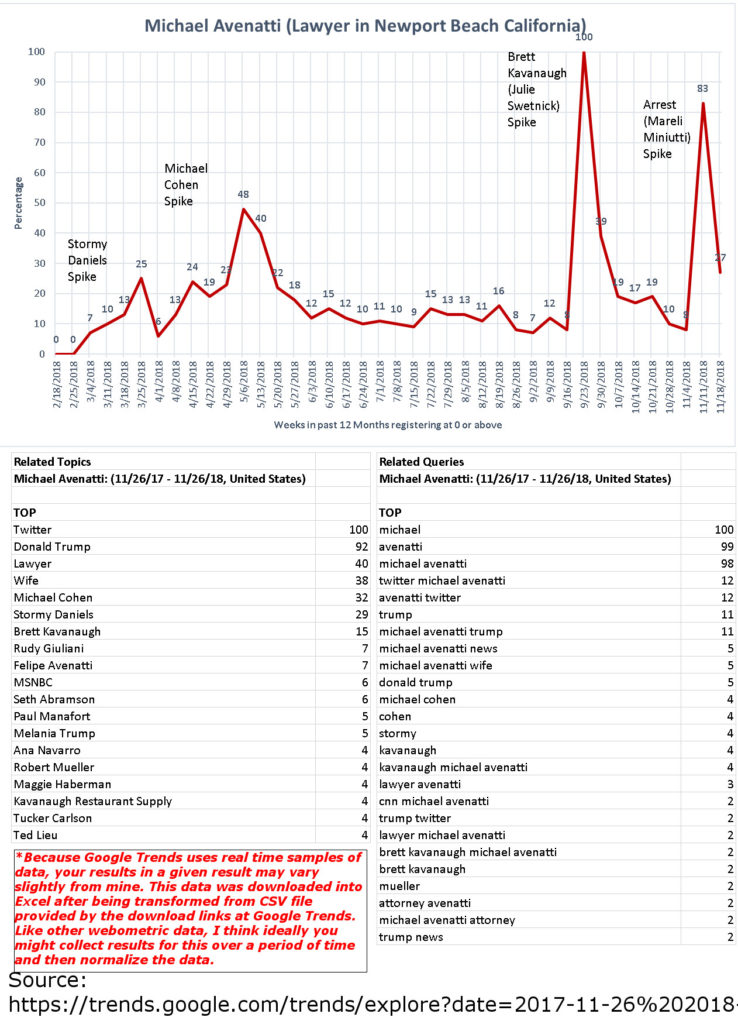 Continue reading "Why Michael Avenatti should have earned a ban from Twitter by now"