There is a new documentary called "Active Measures" coming out about Trump and Russia on August 31; I took notice of it since it is being distributed by the same company that distributed Anthony Bourdain's documentary, "Wasted: The Story of Food Waste" (Super LTD films). It will be interesting to see if it is any good, since this is apparently the first documentary made by the studio 'Shooting Films' (SF). Certainly I am very interested in active measures myself.
I did some research on the company behind the movie. I was surprised to see that one of the principals of SF – Laura DuBois had been involved in the effort called 'Project Welles' which was to bring Orson Welles' "The Other Side of the Wind" to consumers in 2009.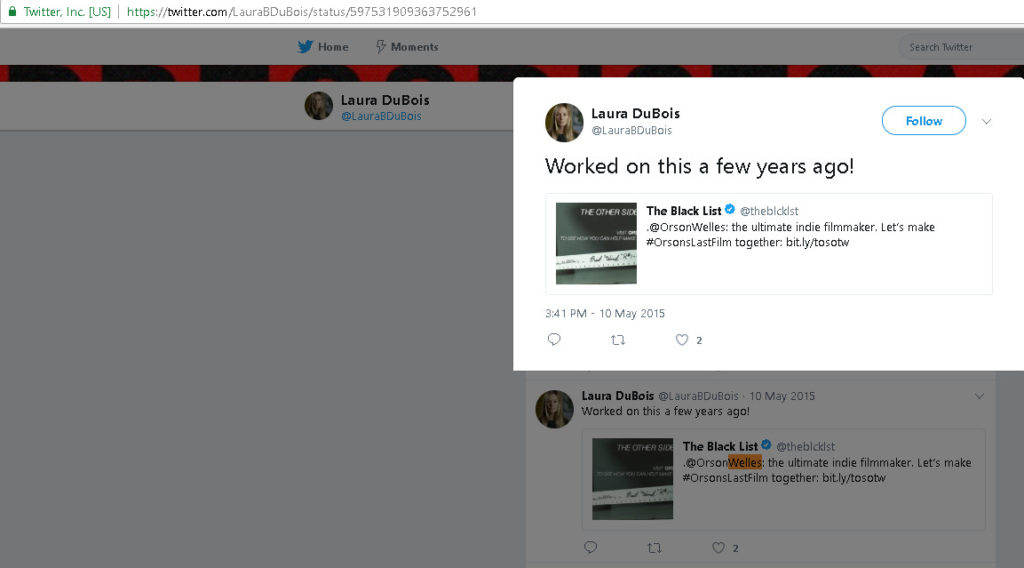 Jack Bryan – another of the SF principals – had been a writer for Jared Kushner's 'NY Observer' around this time too (where he had a disproportionately Alec Baldwin beat).
It seems that this team is not entirely without documentary chops however. Before that, Bryan had made a doc film featuring Anthony Bourdain: "Life After Dark: The Story of Siberia Bar" (2008), billed as: "The life and death of New York's most notorious, dirty, and dangerous dive bar."
Siberia was called "a postmodern Algonquin club", and according to the bar's attorney, it had originally taken its name from "KGB-related documents" which had been found there (@3:50). (Incidentally, see my post related to the Algonquin Club and Orson Welles here; the link seems to have at least been a partial inspiration for the War of the Worlds hoax of 1938. The Algonquins were an outfit popular with Popular Front-types like Dorothy Parker who – much like Orson Welles, was linked to Russian propagandists and anti-Nazi organizations (see Otto Katz and the "Hollywood Anti-Nazi League") which had been political fronts for the Communist Party (CPUSA).)
One might infer DuBois and Bryan met in the 2010 time frame when both were employees of the now-defunct 'Vicart Entertainment' (VE) of New York, NY. VE was a production studio founded by 'Arthur Boujenah', son of the controversial Tunisian film director 'Paul Boujenah' who was one of the film industry figures (along with Harvey Weinstein, Darren Aronofsky, and Asia Argento) who signed the notable "Free Roman Polanski" petition in 2009, which had resulted from Polanski's arrest on decades-old sex charges.
"Vanity Fair's Michael Wolff opined that the arrest is revenge by prosecutors for the humiliation they endured after last year's documentary Roman Polanski: Wanted and Desired depicted the circus surrounding the original case. "
Arthur Boujenah started VE in 2007, following a short 2006 internship at 'The Weinstein Company' when he attended New York Film Academy. After graduating, Boujenah claims to have raised over $2m USD for VE and "produced two feature films and have directed and produced over a dozen Music videos, Commercials and Psa" according to his bios. His current employer bio (which I am guessing will have to be updated) says he is "chronic[ling] the opening of the legendary Chef Joël Robuchon's restaurant "L'ATELIER" in New York City."
Initial reviews for "Active Measures" are positive, but seem split along political lines; it will be interesting to see how far the documentary goes towards establishing an even-handed appraisal of the situation. For a young company, it certainly seems to have a good active measures pedigree; given the connections to Orson Welles and Anthony Bourdain.
For more coverage on Shooting Films' new documentary "Active Measures", check out the politically-correct assessment over at Sputnik Italia.
Sputnik has assured its readers that this doc will tell the truth about Trump and Russia

"The documentary "Active Measures" will be released in the United States on August 31, promising to reveal the long-standing relationship between Vladimir Putin and Donald Trump" – Sputnik Italia
Maybe a better name for this documentary would have been "Useful Idiots".