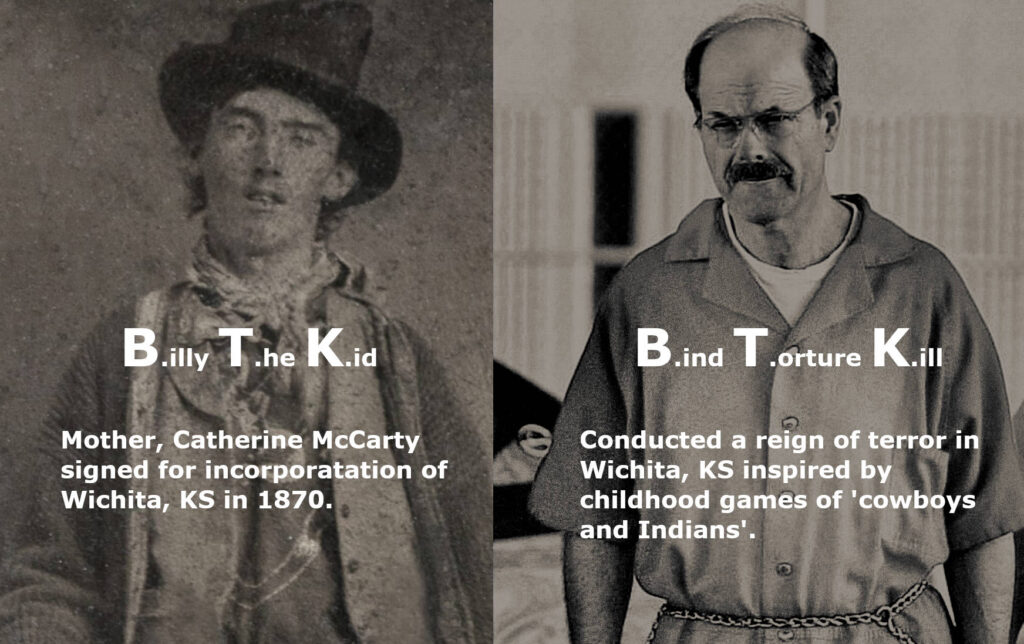 Henry McCarty, AKA William H. Bonny, AKA "Billy the Kid" was born in 1859 in New York City. In 1870, his family moved to Kansas, where his mother, Catherine McCarty signed the charter incorporating Wichita.
Catherine McCarty seems to have contracted tuberculosis over the next several years, and the family relocated to New Mexico territory. At age 14 or 15, Billy the Kid was orphaned after Catherine died of tuberculosis and his stepfather abandoned the family.
By age 21 in 1881, he'd be dead, but not before securing one of the most legendary reputations in the outlaw history of the American West. It seems that McCarty intentionally cultivated his own outlaw legend, claiming 21 murders: "one for every year of his life"; but experts seem to think the total was really 9.
Compare with Dennis Rader, AKA the "Bind Torture Kill", or "BTK Killer", who grew up in Wichita Kansas. Continue reading "Does "BTK" mean "Billy the Kid"?"