In American conservative media, there has been a recent push encouraging vaccine adoption. Notable examples of figures making public statements advocating for vaccines over the past week include Mitch McConnell, Steve Scalise, and Sean Hannity. Such gestures have been welcomed by semi-puzzled liberals, who have come to associate conservative politics during much of the pandemic with skepticism of vaccines and an embrace of conspiracy theories [1].
In the past month, a similar push for the acceptance of vaccines has been furthered in Russia. This seems to have been kicked off on June 30 with Vladimir Putin's annual call-in show where he said he had received the Sputnik V vaccine. This added additional detail to quieter earlier disclosures that the Russian president had received a second shot in March. While promoting the safety of domestic Russian vaccines, Putin continued to stoke fears in Western vaccines, saying: "thank God we haven't had tragic situations after vaccinations like after the use of AstraZeneca or Pfizer."  [2]
Putin's patriotic vaccine statements seemed to form a cue for senior clergy of the Russian Orthodox Church (ROC) to come out publicly in favor of vaccination with domestic vaccines, using many of the tropes of conservative conspiracy theory. This vaccine promotion is interesting because these figures have themselves often been associated with national ideology, conspiracy theories, and disinformation – and even rumors of involvement with the FSB.  Their approach may offer some constructive lessons in how conspiratorial language can be repurposed to promote vaccine adoption. But it also raises more questions about the state of disinformation in Russia and its effects abroad.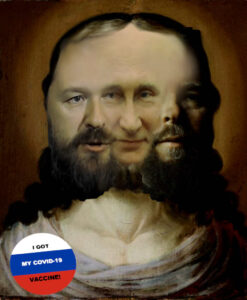 Continue reading "The ROC's Pro-Vaccination Conspiracy Theories"